1.1 Overview of after sales service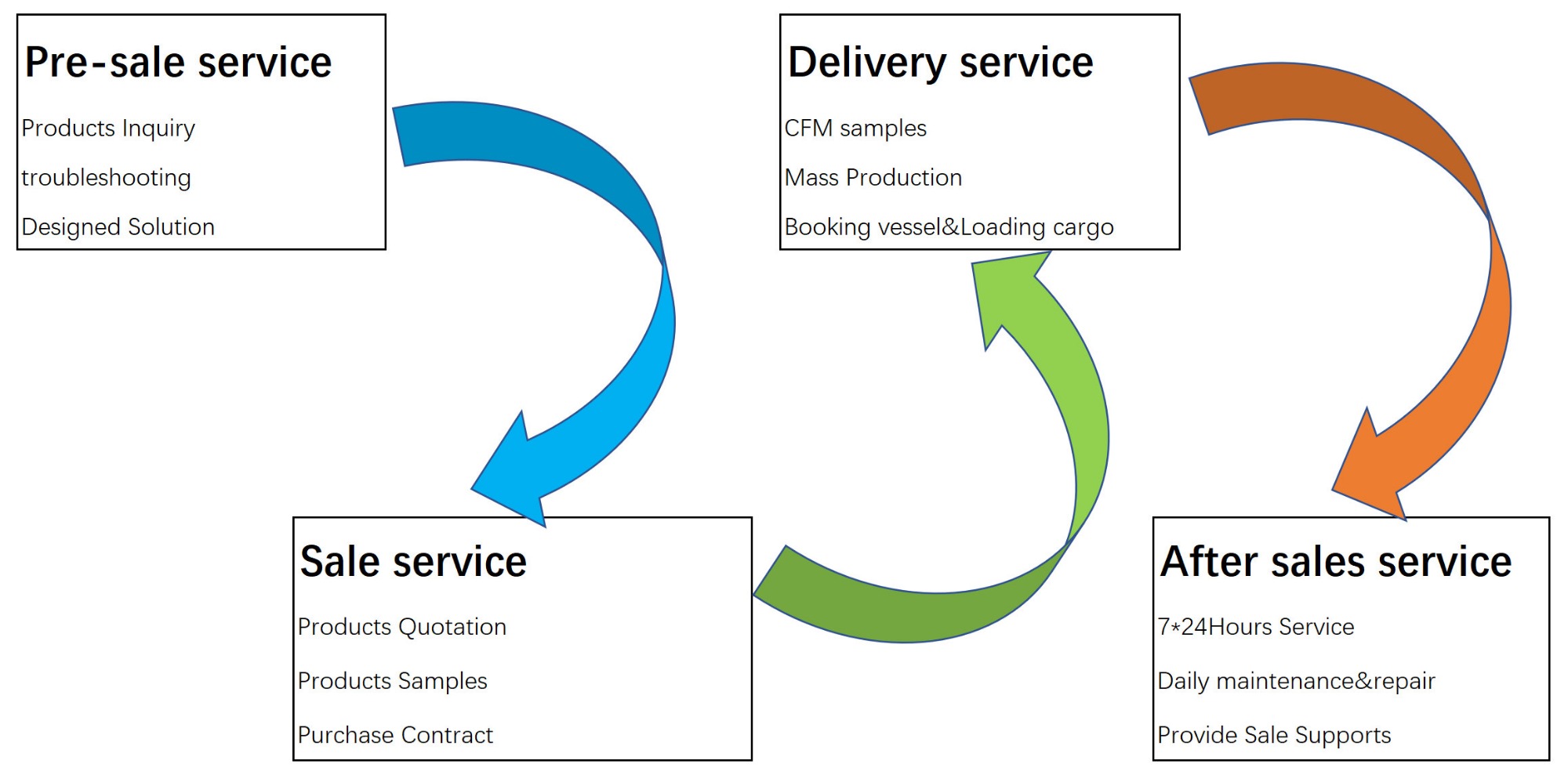 Perfect after-sales service relies on advanced technology, experienced staff and perfect solutions. It is a concentrated expression of the company's strong engineering strength. MZY Footwear Company always adheres to the tenet of "Customer First", and with years of manufacturing experience and technology in the shoe bag industry, it ensures to provide customers with enthusiasm and excellent after-sales service.
1.2 After-sales service commitment
1.2.1 All products are guaranteed to be produced by the original manufacturer, and the original packaging of the manufacturer when it arrives;
1.2.2 Quality Assurance Period: Free maintenance within 1 year;
1.2.3 If there is any problem with the product during the warranty period, it will be replaced free of charge;
1.2.4 After the expiration of the warranty period, provide the user with a paid lifetime service;
1.2.5 Personnel with after-sales service experience with more than 3 years of manufacturing technology will serve you;
1.2.6 Update of sales samples: During the contract guarantee period, we will provide the latest version of the development samples for customers to test the market free of charge;
1.2.7 After-sales service response: We provide 7x24 hours of technical support and professional after-sales service to our customers, and designate relatively fixed technical leaders and contact telephones, e-mail, etc.
1.2.8 It is limited to the problems caused by normal use and does not include damage caused by abnormal use and damage caused by force majeure factors (such as fire, earthquake, snow, lightning, flood, etc.).
1.3 Warranty Out of Service Plan
Providing complete solutions to our customers is what we have been pursuing, including a complete and professional after-sales service plan.
In general, maintenance work consists of the following types:
A Emergency service is the fastest process for fault conditions.
B Routine plan is to carry out targeted maintenance in accordance with the environment in which the target is located, in terms of comfort and durability, in order to achieve the best results.
C Regular daily maintenance and care: Every week, the most basic maintenance of the product. After regular daily maintenance, we will deal with the problems found during maintenance.
1.4 Emergency services
1.4.1 The company may inform our company at any time when there is a serious accident or quality problem that cannot be handled by the on-site duty personnel.
1.4.2 Twenty-four hours to respond at any time. When you receive the notice, understand the general situation and arrange the best solution immediately.
1.5 Repair service charges
1.5.1 The service fee for maintenance and repair is exempted during the warranty period.
1.5.2 After the end of the quality assurance period, the service fee for proper maintenance will be charged.
1.5.3 Our commitment: After the expiration of the free warranty period, the warranty content and maintenance knowledge sharing will remain unchanged.